What is the best bird to have as a pet? There are a few things to consider before making that all-important purchase when deciding what sort of new pet bird will best suit your circumstances and desires. This article will feature what is the best bird to have as a pet.

Because I have only worked with little pet birds during my ten years of expertise, my understanding is sadly limited to these.
You must first pick what sort of bird you want and whether it is appropriate for your circumstances, and then ensure that you have a house ready for your new feathered companion before bringing it home.
What is the best bird to have as a pet?
Here's a quick rundown of the most popular little pet birds, as well as the pros and cons of keeping them, let's learn what is the best bird to have as a pet:
1. Budgie or Parakeet
The budgie is the most popular pet bird in the Western world, and for good reason; small enough to handle, easy to tame, inexpensive, a startling array of different colors, can be kept on its own, very friendly (if tame), a chatterer, minimum requirement to keep in good health, easy to breed (if you want to), usually mixes well with other parrots (budgies and other species). In a cage or aviary, this is ideal.
Budgies, on the other hand, may inflict a painful wound if they bite you while holding them (seldom an issue if they're tame, but they can draw blood if they dig their beak in), they can also be destructive (they love to chew), and they can be highly territorial during mating season (especially if kept with other birds).
Budgies in the wild live in huge flocks and require a lot of contacts to avoid growing bored. They must thus be kept occupied with a variety of toys and your attention or kept with another animal of their kind so that they may interact with one another.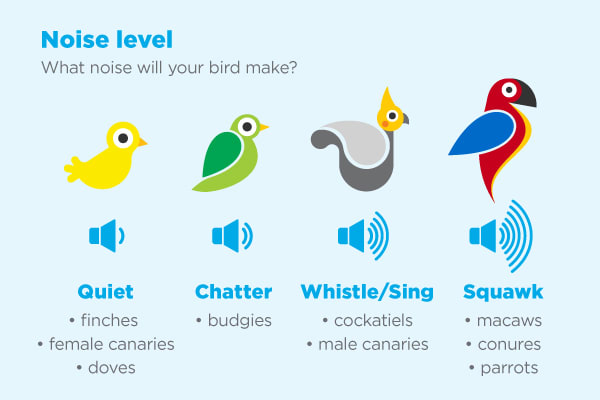 2. Cockatiel
These little parrots, known as 'tiels' for short in Australia, are especially popular as pets due to their peaceful attitude and distinct personality. The cockatiel is slightly larger than the budgie, requiring more space (a larger cage, for example), and it also lives in huge groups in the wild, necessitating contact and toys.
They are easy to keep and maybe kept on their own, in pairs, or in small groups. The cockatiel is an excellent cage or aviary bird, and due to their peaceful disposition, they usually get along with other little birds of different types (cockatiels are often kept in the same aviary as budgerigars and finches with rarely any problems).
They are simple to tame and may learn to mimic various noises with patience and perseverance.
They may, however, bite and inflict a fairly terrible wound if they do so (probably a worse injury than the budgie due to their larger beaks, but again not usually a problem when tame).
If you wish to breed your cockatiels, they should be kept together as a breeding couple with no other birds around. Due to their urge to chew on nearly anything, these birds may be rather destructive, yet they are quickly scared (so no loud sounds or bright lights, please!).
3. Finches
The most common species of finches are likewise highly popular for a good reason: very easy to raise, pleasant natured, little and compact, incredibly active, adorable, prolific breeders, typically reasonably cost, and little room necessary for excellent care (the perfect pet bird for apartments, flats, and small living areas).
There are many different varieties of finches available for pet birds, but the most common are the zebra finch, society finch (Bengalese finch), gouldian finch, and java finch (java sparrow), with the java being the biggest of the four (slightly smaller than the budgie).
All of them may be kept in an aviary cage and typically get along with other animals (I keep budgerigars, cockatiels, zebra finches, Bengalese finches, and javas together in a large outdoor aviary and very rarely have any problems).
When it comes to the initial cost of these little characters, the zebra finches are usually the cheapest (from 3 to 8 each, often with a good deal for a pair), followed by the society finches (from 5 to 10 each, again with a better deal for a pair), the javas (8 to 15 each, buy two for a better price), and finally the gouldian finches (from about 20 each to 60 – sometimes more – but a deal on more than one can usually The higher price for gouldians is due to their beautiful coloration and rarity, making them a sought-after bird for which people would frequently pay a premium.
Finches, on the other hand, do not often respond well to handling and must be maintained in groups of two or more.
Because of their tiny size, a bite is unlikely to cause you any discomfort.
4. Green-Cheeked Conure
Green-cheeked conures are native to South America and like spending time with their keepers. They are inquisitive, lively, and a little naughty birds by nature.
They are, however, calmer and more laid-back than other conure species. They don't normally learn to speak, but their endearing personalities are enough to make them interesting and engaging company.
Green with olive cheek patches, gray breast and head, maroon tail, and blue flight feathers; turquoise, yellow, and cinnamon mutations.
5. Cockatoo
A cockatoo is a fantastic choice if you want a huge pet bird that is sociable and loving. These lovely birds form close bonds with their keepers and desire to spend as much time with them as possible.
It is critical that you devote sufficient time to socialize with your bird. If they aren't given enough attention, cockatoos can grow melancholy and turn to feather plucking or other harmful habits. White plumage with light yellow wings and tail, a big white crest, and a black beak (umbrella cockatoo)
6. Hyacinth Macaw
Hyacinth macaws, sometimes known as "gentle giants," are the biggest of all parrots. And, being gregarious and affectionate birds, they adore spending time with their owners, playing and snuggling. Because of their size, most people find it difficult to provide enough homes for these birds.
Those that are able to satisfy their demands, on the other hand, are rewarded with a fantastic relationship with their feathery companion. Yellow spots around the eyes and beak; black beak; dark gray feet. Solid blue plumage; yellow patches around the eyes and beak; black beak; dark gray feet.
7. Pigeon
Pigeons make excellent pets as well. They are exceptionally clever homing birds with a calm, kind demeanor. Animal cruelty laws protect pigeons, and the conditions you describe do not seem good for this bird.
It requires a large cage and enough room to wander in the flat. Pigeons are said to be among the world's most clever birds. They have a lot of affection for one another.
Pigeons enjoy cuddling and giving small pecks around the neck and head to their spouse. When one of a pair of birds returns to the nest, they frequently greet each other with low, raspy coos.
8. Hahn's Macaw
Hahn's macaws are the tiniest macaws and are also endemic to South America. They do, however, cram a lot of personality into their little bodies.
They are clever and active birds who, when properly socialized and handled, tend to be kind. These macaws love to connect with their caregivers as much as possible, and they may grow melancholy if they are neglected.
They may also be rather boisterous, however, some do learn to communicate successfully. Green plumage with a blue forehead, red margins to the wings, orange eyes, and white rings around the eyes.
9. Parrotlet
Parrotlets are noted for having personalities that are considerably greater than their small bodies. They are sassy and relatively easy to care for.
Those thinking about getting parrotlets should make sure they have lots of time to play and socialize with them, since these birds may get a little wild if they aren't handled often.
People who interact with their parrotlets on a daily basis, on the other hand, are more likely to build strong ties with these amusing little birds. Green on the head and body, blue on the back and behind the eyes; blue, yellow, and white mutations are possible.
10. Dove
Although you would not think of a dove as a nice pet bird, hand-fed domesticated doves are renowned to be incredibly lovely and kind. Doves are rarely aggressive, and even persons with no bird expertise may easily teach and bond with them.
They love the company of their caregivers but are typically not unduly demanding. Gray and brown plumage; black collar at nape of neck; black eyes and beak; white, orange, and pied variants (ring-necked dove)
Other birds
There are many different varieties of birds available, but they are typically more expensive due to their rarity.
Many other varieties of parakeets, such as the ringneck, grass parakeet (bourke, turquoisine, elegant, alexandrine), kakariki (New Zealand parakeet), rosella, and love bird, are still popular.
All little pet birds, on the other hand, require the same level of care.
Always remember to compare prices and, if feasible, get your new bird(s) from a breeder or enthusiast rather than a pet store.
Take away
Most tiny pet birds will thrive in an aviary since it is the closest they will get to their native habitat. However, your birds may become semi-wild in an aviary and may not respond well to handling or one-on-one interaction.
Caged birds, on the other hand, are frequently tame and affectionate toward people. If you want to keep your bird or birds in a cage, get the largest one you can afford (within reason, of course; zebra finches don't belong in a large wide barred parrot cage); your bird should be able to spread its wings to their utmost extent and still have room to spare.
Even in an aviary, parrot-like animals spend more time climbing than flying, whereas finches prefer to fly. We hope you have enjoyed this blog on what is the best bird to have as a pet.

More Interesting Articles